Underactive Bladder Market to Register Incremental Growth During the Forecast Period (2023-2032), Asserts DelveInsight | Astellas Pharma Europe B.V, Taiho Pharma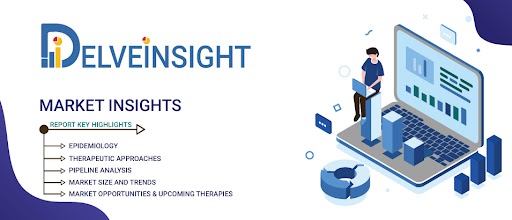 "Underactive Bladder Market Insights, Epidemiology, and Market Forecast-2032″ report offers an in-depth understanding of the Underactive Bladder, historical and forecasted epidemiology as well as the Underactive Bladder market trends in the
DelveInsight's "Underactive Bladder Market Insights, Epidemiology, and Market Forecast-2032″ report offers an in-depth understanding of the Underactive Bladder, historical and forecasted epidemiology as well as the Underactive Bladder market trends in the United States, EU4 (Germany, Spain, Italy, France) the United Kingdom and Japan.
To Know in detail about the Underactive Bladder market outlook, drug uptake, treatment scenario and epidemiology trends, Click here; Underactive Bladder Market Forecast
Some of the key facts of the Underactive Bladder Market Report:
The Underactive Bladder market size is anticipated to grow with a significant CAGR during the study period (2019-2032)
In 2021, there were 41,648,187 moderate to severe LUTS cases reported in EU4 and the UK; this number is projected to rise from 2022 to 2032
In EU4 and the UK, there were 892,604 diagnosed prevalent cases of Underactive Bladder in 2021, and this number is projected to climb at a respectable CAGR from 2019 to 2032
Germany had the greatest diagnosed prevalent population of UAB among the European nations in 2021, with roughly 256,256 cases. Italy was next, with 194,334 diagnosed prevalent cases. However, with 119,307 cases, France had the fewest diagnosed cases of the widespread disease
In 2021, Japan had 184,492 diagnosed cases of UAB, and by the end of 2032, that number is expected to increase
Key Underactive Bladder Companies: Astellas Pharma Europe B.V, Taiho Pharmaceutical, and others
Key Underactive Bladder Therapies: ASP8302, TAC-302, and others
The Underactive Bladder epidemiology based on gender analyzed that males predominantly has the higher number of diagnosed prevalent cases than females
The Underactive Bladder market is expected to surge due to the disease's increasing prevalence and awareness during the forecast period. Furthermore, launching various multiple-stage Underactive Bladder pipeline products will significantly revolutionize the Underactive Bladder market dynamics.
Underactive Bladder Overview
An underactive bladder (UAB) (usually referred to as detrusor underactivity) is a bladder that has a contraction that is weaker and/or shorter in duration, causing prolonged or delayed bladder emptying or the inability to completely empty the bladder within a typical time frame.
Get a Free sample for the Underactive Bladder Market Report
https://www.delveinsight.com/report-store/underactive-bladder-market
Underactive Bladder Epidemiology
The epidemiology section provides insights into the historical, current, and forecasted epidemiology trends in the seven major countries (7MM) from 2019 to 2032. It helps to recognize the causes of current and forecasted trends by exploring numerous studies and views of key opinion leaders. The epidemiology section also provides a detailed analysis of the diagnosed patient pool and future trends.
Underactive Bladder Epidemiology Segmentation:
The Underactive Bladder market report proffers epidemiological analysis for the study period 2019–2032 in the 7MM segmented into:
Total Prevalence of Underactive Bladder
Prevalent Cases of Underactive Bladder by severity
Gender-specific Prevalence of Underactive Bladder
Diagnosed Cases of Episodic and Chronic Underactive Bladder
Download the report to understand which factors are driving Underactive Bladder epidemiology trends @ Underactive Bladder Epidemiology Forecast
Underactive Bladder Drugs Uptake and Pipeline Development Activities
The drugs uptake section focuses on the rate of uptake of the potential drugs recently launched in the Underactive Bladder market or expected to get launched during the study period. The analysis covers Underactive Bladder market uptake by drugs, patient uptake by therapies, and sales of each drug.
Moreover, the therapeutics assessment section helps understand the drugs with the most rapid uptake and the reasons behind the maximal use of the drugs. Additionally, it compares the drugs based on market share.
The report also covers the Underactive Bladder Pipeline Development Activities. It provides valuable insights about different therapeutic candidates in various stages and the key companies involved in developing targeted therapeutics. It also analyzes recent developments such as collaborations, acquisitions, mergers, licensing patent details, and other information for emerging therapies.
Underactive Bladder Therapies and Key Companies
ASP8302: Astellas Pharma Europe B.V
TAC-302: Taiho Pharmaceutical
Discover more about therapies set to grab major Underactive Bladder market share @ Underactive Bladder Treatment Market
Underactive Bladder Market Strengths
The existing treatment paradigm consists mainly of off-label drugs. The untapped market for branded drugs presents lucrative avenues for market growth
Underactive Bladder Market Opportunities
There is room for branded therapeutic modalities with good safety and efficacy data along with progressive clinical trials
Scope of the Underactive Bladder Market Report
Study Period: 2019–2032
Coverage: 7MM [The United States, EU5 (Germany, France, Italy, Spain, and the United Kingdom), and Japan]
Key Underactive Bladder Companies: Astellas Pharma Europe B.V, Taiho Pharmaceutical, and others
Key Underactive Bladder Therapies: ASP8302, TAC-302, and others
Underactive Bladder Therapeutic Assessment: Underactive Bladder current marketed and Underactive Bladder emerging therapies
Underactive Bladder Market Dynamics: Underactive Bladder market drivers and Underactive Bladder market barriers
Competitive Intelligence Analysis: SWOT analysis, PESTLE analysis, Porter's five forces, BCG Matrix, Market entry strategies
Underactive Bladder Unmet Needs, KOL's views, Analyst's views, Underactive Bladder Market Access and Reimbursement
To know more about Underactive Bladder companies working in the treatment market, visit @ Underactive Bladder Clinical Trials and Therapeutic Assessment
Table of Contents
1. Underactive Bladder Market Report Introduction
2. Executive Summary for Underactive Bladder
3. SWOT analysis of Underactive Bladder
4. Underactive Bladder Patient Share (%) Overview at a Glance
5. Underactive Bladder Market Overview at a Glance
6. Underactive Bladder Disease Background and Overview
7. Underactive Bladder Epidemiology and Patient Population
8. Country-Specific Patient Population of Underactive Bladder
9. Underactive Bladder Current Treatment and Medical Practices
10. Underactive Bladder Unmet Needs
11. Underactive Bladder Emerging Therapies
12. Underactive Bladder Market Outlook
13. Country-Wise Underactive Bladder Market Analysis (2019–2032)
14. Underactive Bladder Market Access and Reimbursement of Therapies
15. Underactive Bladder Market Drivers
16. Underactive Bladder Market Barriers
17. Underactive Bladder Appendix
18. Underactive Bladder Report Methodology
19. DelveInsight Capabilities
20. Disclaimer
21. About DelveInsight
About DelveInsight
DelveInsight is a leading Healthcare Business Consultant, and Market Research firm focused exclusively on life sciences. It supports Pharma companies by providing comprehensive end-to-end solutions to improve their performance.
It also offers Healthcare Consulting Services, which benefits in market analysis to accelerate the business growth and overcome challenges with a practical approach.
Media Contact
Company Name: DelveInsight Business Research
Contact Person: Gaurav Bora
Email: Send Email
Phone: 8774225362
Address:27 Drydock Ave S. Jones Blvd #2432
City: Boston
State: MA
Country: United States
Website: https://www.delveinsight.com/consulting/asset-prioritizaton-services