United States Modular Kitchen Market, By Products, Design, & Distribution | Renub Research
United States Modular Kitchen Market will be US$ 9 Billion by 2026. By Design (Straight, L-Shape, U-Shape, and other), Distribution Channels (Online, Offline), Products, Region and Company Analysis
The kitchen plays a vital role, and it is one of the essential areas in a home; it has evolved from the traditional kitchen to modular kitchen over the last decade, particularly in the United States. Kitchen is used to store all food items, utensils, spices and kitchen electronics. Modular kitchens advantages are time-saving, energy efficiency as well as convenience in food preparation. According to Renub Research analysis United States Modular Kitchen Market is expected to be more than US$ 9 Billion by the end of the year 2026.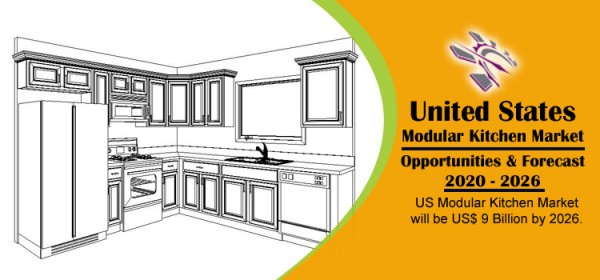 Growing demand for the personalized and customized kitchen is propelling modular kitchen market in the United States as they are influencing purchasing decision of consumers. As a result, vendors are also providing personalized kitchens with innovative designs. With the rise of IoT devices, use of technology is growing in the United States modular kitchen industry. Connectivity is quickly spreading to the kitchen and beyond from the living room. Advanced technology integrated into modular kitchen serves as a personal nutritionist, which helps to achieve nuanced health objectives in a more efficient manner. Besides, a growing number of residential homes and partnerships between modular kitchen manufacturers and real estate developers is also going to augment the modular kitchen market in the United States.
Pandemic COVID-19 Impact on the United States Modular Kitchen Market
Modular kitchen industry has been witnessing inconsistent growth, since the COVID-19 pandemic. Due to the result of the ongoing pandemic crisis, there has been a decline in the overall performance of discretionary products such as furniture fixtures, home decor products etc. However, we expect this decline to be temporary in nature and modular kitchen market to start reviving from Q4 2020.
Major companies operating in the United States modular kitchen market include IKEA, Häfele, Hettich Group, Nobia AB.
Renub Research report titled "United States Modular Kitchen Market, By Design (Straight, L-Shape, U-Shape, and other), Distribution Channels (Online, Offline), Products (Tall Storage, Floor Cabinet, and Wall Cabinet) Region (South, West, Midwest and North East) and Company Analysis (IKEA, Häfele, Hettich Group and Nobia AB)" provides a complete analysis of United States Modular Kitchen Industry.
Request a free Sample copy of the report: https://www.renub.com/request-sample-page.php?gturl=united-states-modular-kitchen-market-p.php
Distribution Channels: Both Distribution Channels are covered in this Report
• Online
• Offline
Design: The market of the following modular kitchen designs are covered in the report:
• L-Shape
• U-Shape
• Straight
• Other Design
Products: On the product basis, the United States Modular Kitchen Market is divided into 3 Segments
• Floor Cabinet
• Wall Cabinet
• Tall Storage
Regions – All the 4 Regions Modular Kitchen Market in United States are Covered
• South
• West
• Midwest
• North East
All the 5 Companies have been Studied from Three Points
• Overview
• Recent Developments & Strategy
• Sales Analysis
Company Analysis in this report
• IKEA
• Häfele
• Hettich Group
• Nobia AB
Industry Related Opportunity:
Global Modular Kitchen Market: https://www.renub.com/modular-kitchen-market-p.php
Europe Air Conditioning Market: https://www.renub.com/europe-air-conditioning-market-p.php
About Company:
Renub Research is a Market Research and Consulting Company. We have more than 10 years of experience especially in international Business-to-Business Researches, Surveys and Consulting. We provide wide range of business research solutions that helps companies in making better business decisions. We partner with clients in all sectors and regions to identify their highest-value opportunities, address their most critical challenges, and transform their businesses. Our wide clientele comprises of major players in Life Sciences, Information Technology, Telecom, Financial Services (Banking, Insurance), Energy, Retail, Manufacturing, Automotive, and Social sector. Our clients rely on our market analysis and data to make informed knowledgeable decisions. We are regarded as one of the best providers of knowledge. Our pertinent analysis helps consultants, bankers and executives to make informed and correct decisions.
Contact Us:
Renub Research
Phone No: +1 678-302-0700 (USA) | +91-120-421-9822 (IND)
Email: [email protected]
Web: https://www.renub.com
Follow on Linkedin: https://www.linkedin.com/company/renub-research
Media Contact
Company Name: Renub Research
Contact Person: Rajat Gupta
Email: Send Email
Phone: 16783020700
City: Roswell
State: GA
Country: United States
Website: www.renub.com/consumer-goods-28-c.php