Animal print Indian wedding sarees available at Kanjivaram silks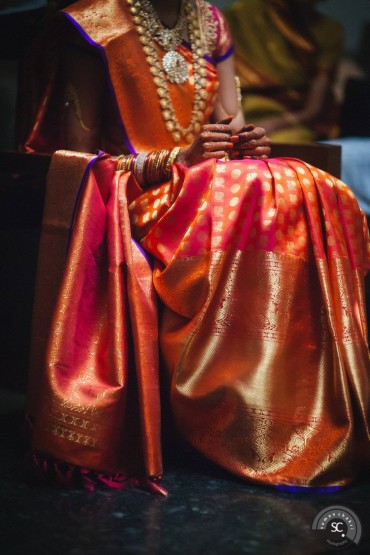 Animal print Indian wedding saree collections made with gold zari and silver zari are available at Kanjivaram silks for this wedding season.
Traditional wedding silk sarees comes with bird designs like peacocks and chakras and floral motifs in the body of the silk sarees. Kanjivaram silks have introduced animal motifs designs like elephants, deer in body and border of the wedding sarees.
Weddings are a major part of Indian life and sarees hold a great significance during weddings. Indian wedding sarees are designed in numerous types, based on region or latest designs, and make the brides glow with all its finery and adornments. They are designed to make the occasion memorable and priceless. Indian wedding sarees help the brides start a fresh journey of new life with new relationships and this traditional attire is a heritage that is also a fashion statement for the contemporary brides. Indian weddings are occasions when bridal sarees are worn by almost all the women from the bride's side or groom's side and they are available in a wide variety with opulence and fine craftsmanship.
Indian wedding sarees in silk are quite popular in all corners of India, especially South India and silk handloom sarees are adorned on special occasions like weddings, festivals, and other functions. Wedding silk sarees is a staple for every Indian bride and every woman loves sarees. They are evergreen and sustainable and can be worn on many occasions, but it is very important to take care of your bridal sarees so that this classy attire they stay as they are and can be used years later. We spend so much money on these expensive indian wedding sarees and they are adorned with perfect designs and embroideries. However, we should take care of the sarees in a responsible manner. All it requires is a few tweaks and efforts that will keep it looking great for a long time.
How to take care of your wedding silk sarees:
Show sun to the Indian wedding saree and refold it: Indian wedding sarees are designed with particular designs and weavings and in order to maintain them for a long period of time, you must do the routine refolding of zari. All you have to do is take out your saree from the wardrobe and place it in mild sunlight for some hours. This will save your saree from fungus and various odors. Later change the fold of the saree to remove previous creases and place it back into the wardrobe. This will prevent the creasing and breaking of zari.
Taking care of wedding silk sarees: Taking care of wedding silk sarees is very important and they need to be stored and cared for in a better manner. Wedding silk sarees should not be hung on metal hangers but should be folded and placed in a cotton bag. These sarees should be kept in a cool place and must be kept separately. Place silica gels near the saree to keep the moisture at bay as it may affect the saree. You can also place these gels inside the saree to avoid humidity and fungal growth.
Get back the shine of the wedding silk saree: With time, Indian wedding sarees can lose their shine and luster, but taking good care of them can bring it back easily. Washing silk saree with ¼ cup of vinegar and water can get back the sheen and distilled vinegar works the best. Make sure to rinse off the bridal saree nicely otherwise the fabric might get damaged. Enjoy wearing old sarees once again.
Taking care of embroidered indian wedding sarees: Wedding silk sarees are mostly heavily embroidered and they have been in trend for a long time. Almost every woman owns one heavily embroidered saree as these sarees are a great work of art. However, they need to be taken care of using great caring techniques. Heavily embroidered bridal sarees have thread work and zardosi work done on them and they require a lot of care as they can wear and tear easily. You should never hang bridal silk sarees or they might face tearing so it is better to fold them inside out for better outcomes.
How to Iron the bridal silk saree: bridal silk sarees must be ironed with great care as if it is not ironed properly, they may get damaged. Heavy sarees should be ironed by keeping a soft cotton cloth on top so that the embroidery and weaving is not harmed. Silk and zari wedding sarees online should be ironed with special care as if ironed directly, their cloth might be harmed. Place a cotton mulmul cloth on top of the saree to reduce the impact of heat on the saree. Ironing it in the right manner will keep it clean, crisp, and damage-free.
Stain removal for indian wedding saree: Removing stains is one of the toughest tasks and we all know that saree stains come easily, but don't go that easily. When we are attending parties or functions, a little slip of food or drink may stain the entire saree, but following few tips, you can remove the stain easily. Firstly try running the saree under cold water that can pretty much clean it. This may work only for mild stains and larger stains may require soap to clean. If the stain is oily, then first dab some talcum powder on it and then iron by placing the newspaper on top. If the stain is too stubborn, it is better to get it dry-cleaned.
How to wash the bridal silk saree: Wedding silk sarees as we suggest, should not be washed as the fabric may become rough and get damaged. However, if you want to wash it then use salt and water combination, so that the color of the saree does not come out. Never put it inside the washing machine silk and zari sarees must be given to the dry-cleaner only as they require more care as compared to other sarees. Do not squeeze the fabric of the saree as it might get harmed.
Following the above-mentioned tips will help you keep the indian bridal silk saree in great shape for a long period of time. It can be worn again after many years and can be passed on to other generations too.
Media Contact
Company Name: Kanchipuram Silk Sarees Store
Contact Person: Vamsee
Email: Send Email
Phone: 9677063537
Address:251-9 Gandhi Road, (next to petrol bunk)
City: Kanchipuram
State: Tamil Nadu
Country: India
Website: https://kanjivaramsilks.com