Escaped alien from area 51 better known as the Artist S.m.S. drops new album "Welcome to Earth"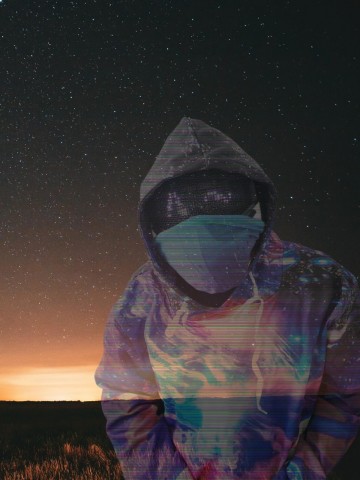 S.m.S. is an artist who is an escaped alien from area 51. He keeps his identity hidden because of not wanting people to know who he really is until he is completely ready, and is looking to make an impact on the world with his ardent music. His music speaks great volumes and contains really powerful rhythm and lyrics. He intends to inspire people to stand against those who bring negativity in this world, and to let the people know that they are not alone in this world full of hatred.
S.m.S. recently released his debut album titled "Welcome to Earth", a beautiful collection of 8 'other-worldly' tracks titled – Energy, Lately, I.M.F., Donnie Style, Work, Direction, Dear Twimc, and Welcome to Earth. This album is for all those who are tired of negative thoughts and people, heartbreak, or people who try to change them against their will. Most importantly, S.m.S. wants to make people believe in themselves and feel happy with just the way they are.
When asked about his musical journey, S.m.S. says, "If not for music producer Simbai who taught me how to make music, I would not be doing this. So I owe my beginning to him. Music is not an easy journey and I still have a long way to go. I hope that by the end of it a lot of people will have been positively impacted by my music."
S.m.S. draws inspiration from great artists like Tupac, Michael Jackson, and Childish Gambino to name a few. He strongly believes that music is the only way to send real and meaningful messages to the world because of its wide reach and undying desirability. There are very few people who do not take an interest in music, yet everyone is listening to it. Therefore, it is a perfect medium to cast an impact on the people. He likes to describe his music style as hip-hop, with beats that have EDM flair. S.m.S. creates music that has a great influence on people due to the meaningful lyrics he uses to send out a message to the world.
S.m.S tells his fans that the clouds of despair and negativity will eventually go away, and there will be happiness, once and for all. But all this will take time and a lot of patience.
Listen to the album "Welcome to Earth" now on Spotify.com.
Instagram: https://www.instagram.com/s.m.s_memesspace/
Media Contact
Company Name: S.m.S
Contact Person: Media Relations
Email: Send Email
Country: United States
Website: 8382440.253547.renderforestsites.com/