With its Security System, ieGeek is making security simpler, faster, and smarter
ieGeek provides a selection of security systems making protection for homes seeking reasonably priced professional monitoring services easy, fast, and smart.
A popular home security brand, ieGeek is making security easier, faster, and smarter with its security system. ieGeek makes some of the market's most widely used security system products. From indoor cameras to outdoor cameras, wifi cameras, wireless cameras, battery-powered cameras, spotlight cameras, floodlight cameras, 4G LTE cameras, doorbell cameras, baby monitors, and more, ieGeek can be guaranteed to fit consumers' needs.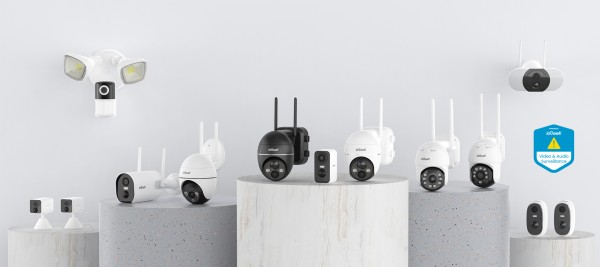 ieGeek has been in the business of designing, manufacturing and selling security system devices since 2016. ieGeek says: "Safe & secure living is our top priority." When a customer chooses ieGeek, they benefit not only from the latest generation of cameras but also the data privacy is guaranteed. ieGeek is on a mission to create a safer and worry-free lifestyle by delivering security products that are easy to use. To be a security brand that leads the future trends of the security industry.
Regarding security and privacy, ieGeek adopts AES-256 technology (Advanced Encryption Standard Technology) and has obtained FCC certification. AES technology is a symmetric block encryption technology that uses 256-bit blocks to encrypt data. Therefore, a 256-bit encryption key is significantly more difficult for brute-force attacks to guess than a 128-bit key. Using brute-force methods, the 256-bit is virtually impenetrable. If someone asks how long it will take to crack 256-bit encryption using a brute force attack, the answer would be 1 billion years. Hence, AES-256 encryption is safe against brute-force attacks.
In ieGeek Cam APP, the customer needs to create a personal account and password. The password format is relatively complex (8-16 digits; numbers, uppercase and lowercase letters, and characters include at least two types), providing a safe guarantee for their account. The device-sharing function can be turned on or off, and customers can control the permissions for shared users. Cloud storage can better preserve data integrity, and will not cause data loss due to hardware damage or theft.
Privacy is a fundamental human right. At ieGeek, it's also one of the company's core values. Their devices are important to so many parts of customers' lives. What they share from those experiences and who they share it with should be up to them. The company designs ieGeek products to protect their privacy and give them control over their information. It's not always easy. But that's the kind of innovation the company believes in.
ieGeek products are designed to be easy to install and operate. Overall, ieGeek is an excellent choice for homeowners looking for low-cost professional monitoring services to achieve a home security system.
For more information, visit:
YouTube Channel: https://www.youtube.com/@ieGeekCam
Facebook: https://www.facebook.com/ieGeek.Official
Amazon UK Store: https://bit.ly/3neNAJl
Amazon US Store: https://bit.ly/3Hvu9D8
Media Contact
Company Name: Globaleda Inc.
Contact Person: Jasmine Porras
Email: Send Email
Country: United States
Website: iegeek.com