GCPIT Celebrates World MSME Day 2021 to acknowledge the critical role and significant contribution of MSMEs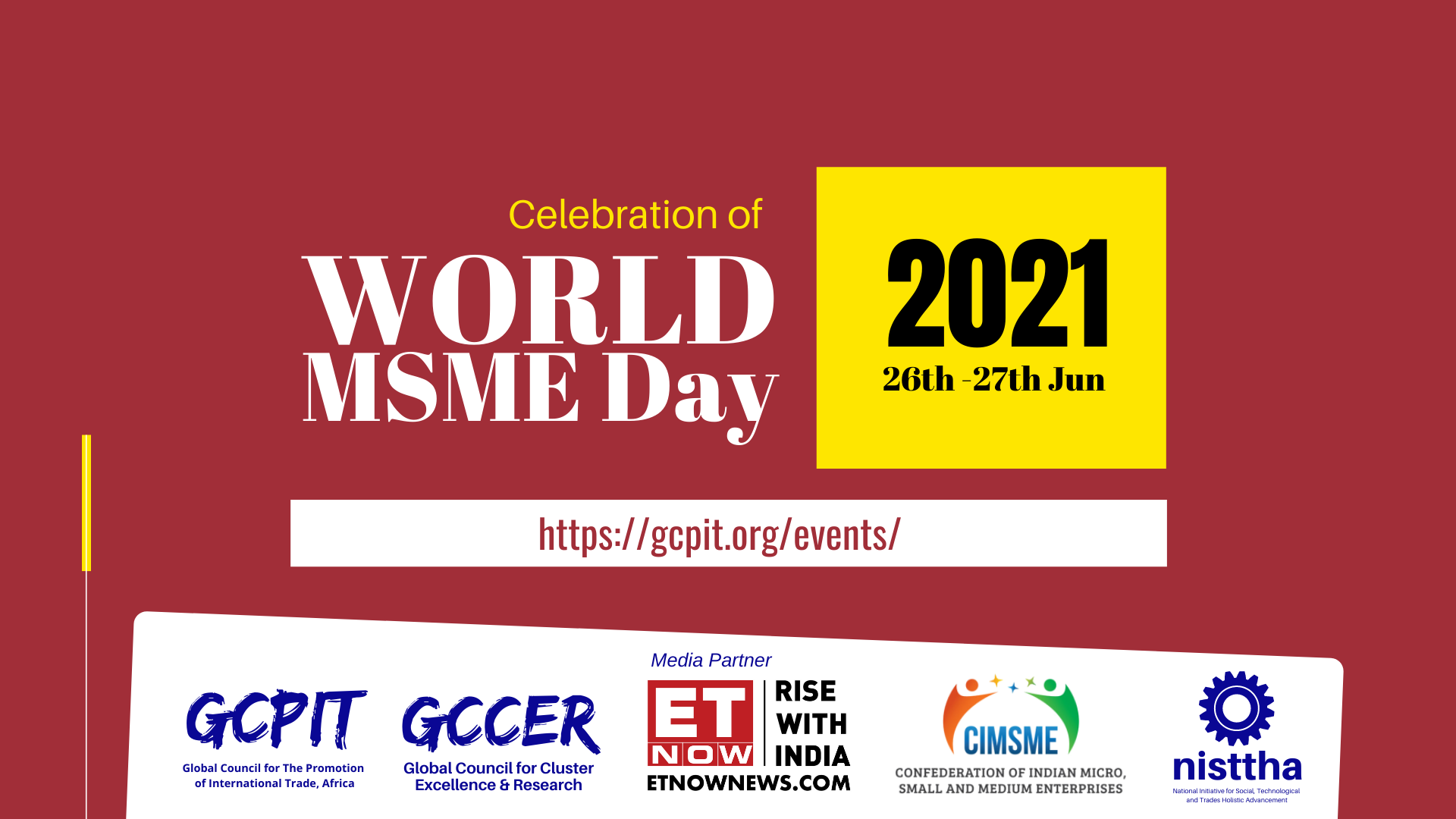 As designated by the United Nations General Assembly, 27 June is Micro, Small and Medium-sized Enterprises (MSME) Day. The Global Council for the Promotion of International Trade (GCPIT) joins the global community in commemorating MSME Day on 26th June'2021 to emphasise the critical role and significant contribution of MSMEs to livelihoods, communities, and economies; and to raise awareness about the critical need to support MSMEs' success and development.
Empowering small and medium-sized businesses (SMBs) through #Brand10000SMEs
For MSMEs, innovation does not always require the use of sophisticated technology tools or fully digital manufacturing processes. It can also take the form of new business models, the development of new product lines, increased efficiency in manufacturing processes, and the intensification of promotional efforts—all of which are aimed at ensuring that MSMEs' products remain competitive and relevant in an ever-changing market environment. However, the process of innovation is frequently out of reach for MSMEs, either due to a lack of resources or a lack of access to technology.
As a result, GCPIT has taken numerous steps to create the best innovative ecosystem possible for MSMEs. One such initiative is #Brand10000SMEs, which aims to increase SME competitiveness in order to better prepare MSMEs for internationalisation and cross-border expansion.
The #Brand10000SMEs mission is to assist small businesses by making access to education, collaboration, domestic and national market, capital, and business support services more readily available to them. Through this mission, SMEs will learn skills such as business plan development, problem solving, financial management, research and development, product and project management, marketing, employee management, innovation management and digital transformation. The mission will open doors for SMEs to learn from and be mentored by business owners, as well as provide assistance to those new to entrepreneurship in the form of one-on-one advising.
The #Brand10000SMEs focuses on practical skills that managers can implement immediately in their company. Small business owners will learn new practises that increase their growth, and they will also begin to craft a growth plan that is custom tailored to their individual business.
Apart from global initiatives, there are a number of national initiatives aimed at facilitating MSMEs' adoption of innovation in their business processes.
Sang Ho Weon, Executive Director , Korea-India Software Cooperation Center of National IT Industry Promotion Agency quoted, "World MSME Day 2021 is a precious day that opens the future for SMEs. Everyone believes that the role of SMEs is very important for the economic development of the country. Furthermore, collaboration between SMEs is necessary to strengthen their global competitiveness in the era of 4th industrial revolution. In order to expand international exchanges and partnerships of SMEs, it is necessary to share internationally standardized methods and experiences. All stakeholders, including government agency, academics, entrepreneurs, accelerators, and investors, must work together in this effort".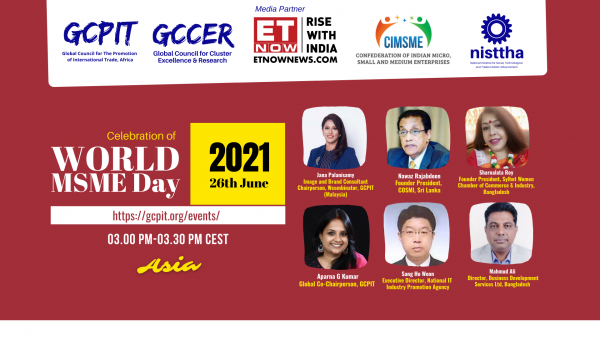 "The pandemic drove a marked shift in digitalisation and is here to stay. World MSME Day 2021 is definitely a great initiative for entrepreneurs development and collaboration. Remote working and digitalisation is the future of businesses in Malaysia and is the key for SMEs quickly reinvent and pivot themselves as their workforce remain resilient, competitive and relevant. Government respond swiftly to the unprecedented challenges SMEs faced, through a wide range of support measures and stimulus. Parallel to this, there are gradual structural support in innovation, skills development and access to new market. SMEs must adapt rather lag behind to continually catch up!" said by Jana Palanisamy, Professional Image & Branding Strategist and Chairperson, WCombinator, GCPIT (Malaysia)
Addressing the celebration organized by the GCPIT, Nawaz Rajabdeen, President, Confederation of Micro, Small and Medium Industries (COSMI), Sri Lanka Said, "I congratulate the Global Council for the Promotion of International Trade for an excellent event celebrating the World MSME Day 2021. In particular, the four-hour knowledge session on "Future of SMEs and Trade, a Country Perspective" was packed with a wealth of insight into the opportunities and challenges of SMEs in their respective countries. This created much needed awareness, and was also an ideal opportunity to connect and interact with other countries, especially those in South Asia. Kudos to Santosh and the team for organising this great event."
Sharnalata Roy, President, SWCCI, Bangladesh expressed, "It is a great initiative. I believe it is the right time to work globally for MSMEs. Our entrepreneurs are ready for export leather goods, garments, jute products, also some rare. For exploring market we shall make a calendar for organizing fair. For technical & skill development we send our experts to trained them. Also help the entrepreneur to find the path how they settled their industry with minimize cost. It is very urgent to talk with right authority to develop the global value chain."
Aparna G. Kumar, Global Co-Chairperson asserted: "The feedback I have received from everyone has been overwhelming, I appreciate the kind words and support! Next year It will be even bigger but I will now look towards planning the upcoming #Brand10000SMEs Awards event that will be held in July this year and will be open to any micro, small and medium enterprises to participate so if you feel like stepping out of your comfort zone and having the global experience then get in contact with me today! "
Santosh Ganesh, Global Chairperson concluded with a tinge of satisfaction: "I would like to thank every speaker and delegate for their kind support and cooperation extended to us during the celebration of World MSME Day 2021 on 26th June 2021. It was informative, engaging and futuristic. We are proud to add all of them in our global think-tank group for future cooperation. I'm looking forward to all of them continuing this powerful journey with us."
Video Link: https://www.youtube.com/embed/oPwnnyNrZuo
Media Contact
Company Name: Global Council for the Promotion of International Trade
Contact Person: Santosh G
Email: Send Email
Phone: +919480295223
Address:No 1 & 2, A1 Block, Kundalahalli Village, K. R. Puram Hobli
City: Bangalore
State: Karnataka 560037
Country: India
Website: https://gcpit.org/